Vehicle Details
1977 BRISTOL VRT SERIES 3 74 SEATER
£7500 PLUS VAT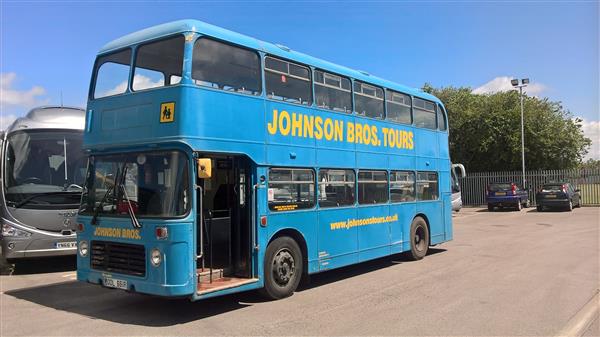 ---
HERE I HAVE A LOW HEIGHT 1977 BRISTOL VR
BEING LOW HEIGHT MAKES IT IDEAL FOR EXPORT, IT IS 4.17 METRES TALL.
IT IS REGISTRATION ODL661R
NEW IN APRIL 1977 TO SOUTHERN VECTIS
IT NOW HAS A CLASS 5 MOT TO MAY 2018
IT CAN BE DRIVEN ON A CAR LICENCE (FOR NON COMMERCIAL JOURNEYS)
IT IS SEMI AUTOMATIC AND HAS POWER STEERING, SO IS EASY TO DRIVE.
IT HAS NEW BATTERIES AND A SPARE WHEEL.
DELIVERY UP TO 100 MILES FROM CHESHIRE IS INCLUDED AND I AM HAPPY TO DELIVER WORLDWIDE.
THE FINAL PHOTOGRAPH IS OF A SIMILAR BRISTOL VR WHICH WAS DELIVERED TO GDANSK IN POLAND LAST YEAR BY OURSELVES.
THESE BUSES ARE APPRECIATING IN VALUE AS THEY ARE THE LAST AVAILABLE OF LEAF SPRING SUSPENSION AND ARE ALMOST MAINTANENCE FREE.
VERY RELIABLE GARDNER 6 CYLINDER (6LXB) ENGINE.
01925 210220
---
Please note that unless otherwise stated, all commercial vehicles sold in UK or EU are subject to VAT at the current rate. VAT is not payable on exports to non EU countries provided proof of export is provided in the form of a shipping bill of lading.