Vehicle Details
2009 VOLVO B12M JONCKHEERE 53 EXECUTIVE
£75000 PLUS VAT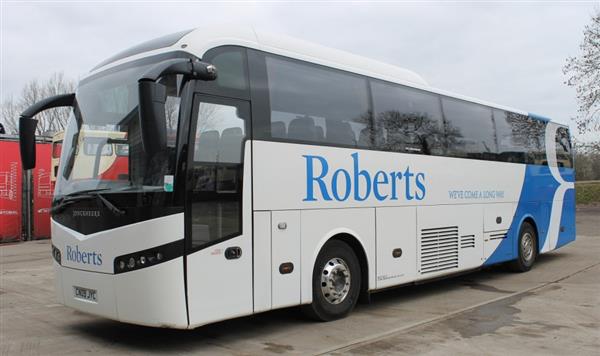 ---
2009 Volvo B12 M Jonckheere 53 Executive.
53 Recliners with grab handles, cup holders, footrests, middle and insde armrest.
Courier seat.
3 Point belts.
Air conditioning Thermoking.
Tinted double glazed windows.
Curtains.
Webasto
Centre sunken toilet.
Centre continental door.
Boiler.
Dash fridge.
Electric sunblinds.
Reversing cameras and dash monitor.
DVD and one monitor.
CD/Radio/PA.
Alloy wheels.
---
Please note that unless otherwise stated, all commercial vehicles sold in UK or EU are subject to VAT at the current rate. VAT is not payable on exports to non EU countries provided proof of export is provided in the form of a shipping bill of lading.