Vehicle Details
1992 Leyland Olympian semi open top bus
£7500 plus vat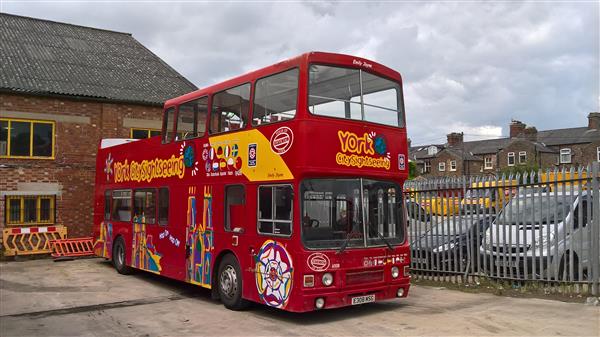 ---
THE PHOTOGRAPHS ARE OF A SIMILAR BUS.
NOT THE ACTUAL VEHICLE WHICH WILL BE AVAILABLE FROM THE FIRST OF JULY.
Semi open top
9.50 metres long
4.50 metres tall
2.50 metres wide
New Mot test
New. Batteries
Drives very well
Delivery in UK included
Ideal for export to USA as over 25 years old
Here is a little information about Leyland Olympians i saw on Wikipedia...
The Olympian shared the same chassis and running gear as with the Leyland Titan integral double deck bus which was ordered en masse by London Transport. At the time there was a demand for non-integral vehicles, with operators wishing to have the chassis bodied by other manufacturers. Thus Leyland created the B45 project, which was named Olympian, in 1979. This was in many ways an update of the popular Bristol VRT (Bristol Commercial Vehiclesmerged with Leyland in 1965), with many VR customers choosing Olympians. Later the Olympian also replaced the Leyland Atlantean.
The Olympian was unveiled at the 1980 Commercial Motor Show.[1] It was available in two lengths, 9.56m and 10.25m. Engines were either the Leyland TL11 unit (an 11.1-litre development of the Leyland O.680), or the Gardner 6LXB or 6LXCT. Some later Olympians had Cummins L10 engines; one had a 5LXCT.
For the export market a three-axle version was built with lengths of 10.4m, 11.32m and 11.95m. This was very popular with operators such as Kowloon Motor Bus. In 1988, Leyland developed an air-conditioned version of the Olympian, with the air conditioner driven by the main engine instead of a separate engine.
Between 1979 and 1981, nine demonstrators were built, before the first production Olympian entered service with Ribble Motor Services in August 1981.[2][3]
The Olympian was initially manufactured at the former Bristol factory in Brislington with the first thousand completed here. In 1983, production transferred to Leyland's Farington and Workington plants. The last was completed for Singapore Bus Service in March 1994.[2
---
Please note that unless otherwise stated, all commercial vehicles sold in UK or EU are subject to VAT at the current rate. VAT is not payable on exports to non EU countries provided proof of export is provided in the form of a shipping bill of lading.